My new favorite potato chips
These sound strange, but they are so good. The perfect combination of sweet, salty, and spicy. In fact, I'm coming to realize I'm a huge fan of buttermilk baked in all kinds of things, but I never would have thought potato chips before I tried these.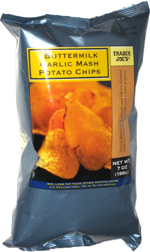 And while we are talking about great products from Trader Joes, if you have one near you, you MUST try these cookies.
I'll stop before I get us all drooling, but I just had to share.